During the month of October, our local Great Harvest bakery had Pumpkin Scones as a special a couple days a week.
I made sure to drive over a few times to make a purchase, once even getting a couple extra to drop off for son Chris and his roomie to enjoy.
On the last visit, in the parking lot of the same shopping plaza, I spied an elephant.
A fake elephant, thank goodness, but still. . . .
I didn't have my camera with me right then, but when I mentioned the elephant down the way, the clerk said it had been there awhile because of another tenant in the building.
This morning, what with the time change giving us an extra hour, Husband and I decided to go out for the breakfast we didn't get to have together on Saturday because I was being a volunteer at the church blood drive.
The restaurant is only a couple blocks from the elephant in the parking lot, so I made sure to have my camera handy.
Knowing Husband is much better with lighting and angles than I am, I asked him to get these pictures.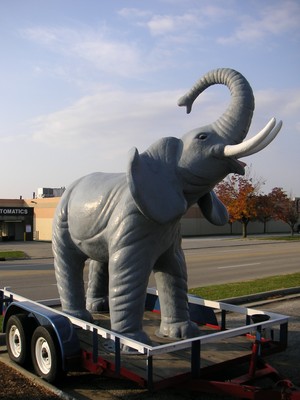 We just never know what's gonna be seen in the land of the free 🙂
~~love and Huggs, Diane