As so many of you mentioned, I haven't been near this blog, nor even the computer, in quite awhile. Not to worry, I'm still here, just not writing so much about what's happening.
You may surmise that my creative juices were elsewhere.
The Illinois Mennonite Relief Sale happened last weekend.
for my donation to the Needlework Booth
I crocheted 12 pairs of potholders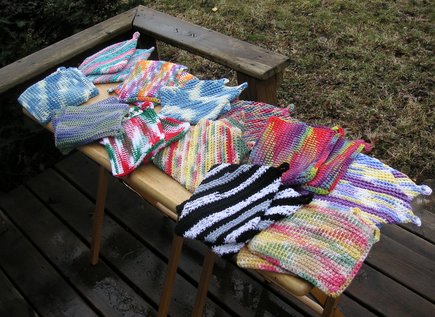 done with 100% cotton 4-ply yarn, size G hook
These all got worked on after I finished the pastels baby blanket mentioned a couple posts back.
I tied and tagged them at $7 a pair, and when I checked near closing on Saturday, the only pair not sold was Christmas colors. I guess it was difficult to think of Yuletide on St. Patrick's Day.
Last Friday, I was out of bed at 5:50am and gone at 6:30am. I returned home once for about 20 minutes, then again for a shower and lunch.
For the Relief Sale, my main jobs were in the Dutch Pantry section. I stocked for 3 hours, then clerked the baked goods table for 3 hours.
Finally in bed that night about 10:30pm.
This week, I worked up 2 more pairs of potholders as gifts, 4 straight bookmarks by a request, and a cross for a sympathy card. I don't have pictures of them.
My son Lucas was visiting and he said I really did have quite an output of crochet items while he was here.
His cat Scratchy is adorable.
Our cats are not gracious hosts.
Wednesday evening was the last of this season's Family Fun Nights at church. Other than a bit of paperwork, I consider it nice memories.
My husband says that when I get into the mood, in company with like-minded people, I am a little whirlwind of activity.
He says it would be good to be so busy while also bringing in wages, but I'm taking steps towards there. Besides, nobody from the school district called me in as a TA Sub the last couple weeks (mixed blessing).
Yesterday, I began a bedspread cotton baby blanket for a little one expected at the end of May.
Creative hands keep working.
~~love and Huggs, Diane