I finished a granny square afghan this week.
It is all 4 ply acrylic, although brand names of different companies, donated in a bag from someone at church.


There are 42 squares.
I decided the peach color border on the one is too brite, so I pulled it out and worked it in some pale yellow.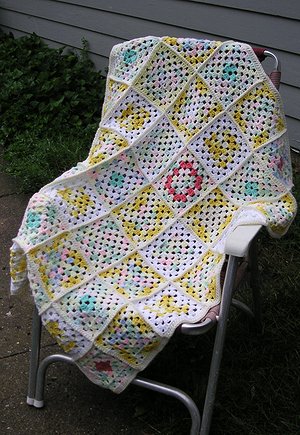 This one is going to the son of a guy who works with my MrDoF.
Although it is very warm to be using in the summertime. Putting the border around it made me very glad for cool air conditioning.
There is plenty enough for growing room……
~~love and Huggs, Diane on Thursday
Update Friday afternoon:
I just got back from delivering the baby blanket. There are 2 daughters, this is the first son, and I got to hold him for a little while. He slept right through all the chattering around him.
The momma looks real good for having a 2 week old baby!
She says it is really nice to have something handmade for the third child. They LOVE the blanket, so I guess I done good!